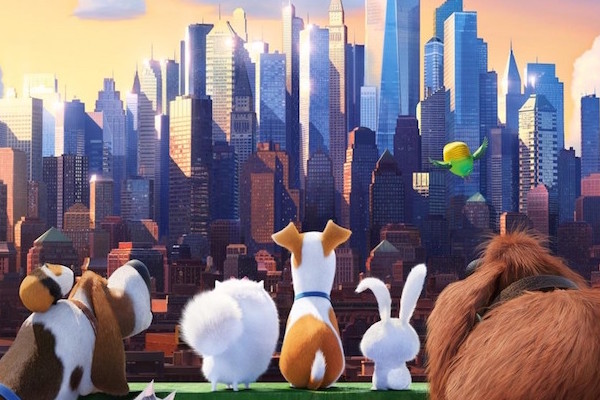 How do our pets act when we're not around? It's a question we're so curious about when we see dogs whimper as we walk out the door. When we see cats comfortably relaxing, and they seem like they could care less as we walk by them. Well, Illumination Entertainment's newest film, "The Secret Life of Pets" tells us just that. From a cat who raids the fridge, to a dog who loves head-banging to rock music, these are just a few things we get to discover about the daily lives of pets in this film.
The story follows a terrier named Max (Louis C.K.) who has a great relationship with his owner, Katie (Ellie Kemper). And every day when she leaves for work, he anxiously awaits her return. Usually, he kills the time by having some his friends/other pets over to hang out. But his life is turned upside down, when Katie returns home one day with a new dog she got from the pound, Duke (Eric Stonestreet). Max instantly dislikes him, and the two can't seem to get along. The following day during their group dog walk a fight ensues which results in them getting parted from their dog walker, and leaves them struggling to find their way home.
If this plot sounds somewhat familiar, try replacing the pets with toys. Yes, the premise of the film is essentially the same as "Toy Story". Unfortunately, "The Secret Life of Pets" just doesn't properly execute the same heartfelt message.
Don't get me wrong, "The Secret Life of Pets" is still an enjoyable film and will thoroughly entertain kids. Especially through the biggest standouts of the movie Snowball (Kevin Hart) and Gidget (Jenny Slate), who provide the biggest laughs. Listening to Kevin Hart's voice on a tiny, cute, little bunny who loathes humans is an ironic and hilarious combination.
I only wish that the film focused a little more on the things that pets do when their owners are gone and when they return home. They graze over the cliché actions we'd expect, but it is quickly over shadowed by a journey of trying to get Max and Duke home.
"The Secret Life of Pets" is absolutely worth the watch, but if you have already seen "Zootopia" or "Finding Dory", don't expect this film to come close in comparison. The entertainment value is there, but it lacks the heart and depth that we usually hope for from these family animated movies.
Rating 3/5
"The Secret Life of Pets" hits theaters July 8.
"The Secret Life of Pets" Trailer HD