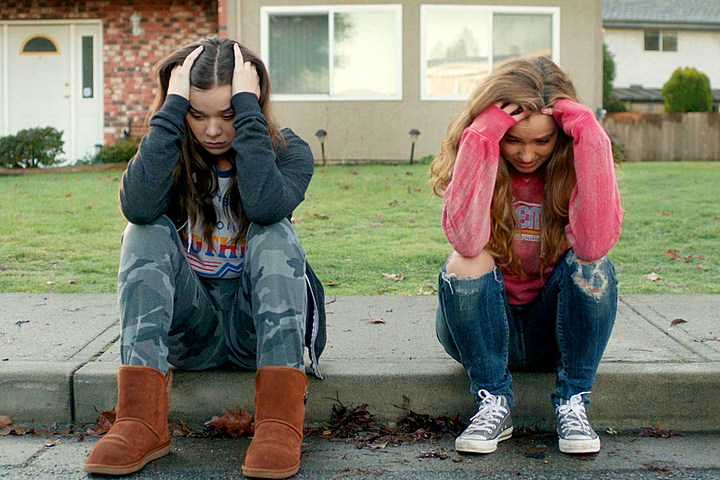 10. The Edge of Seventeen
As a fan of John Hughes and really any High School teen angst film, this movie was always going to be my cup of tea. But, what's so refreshing about The Edge of Seventeen is its more realistic take on an extremely socially awkward girl who's struggling to get through High School. As embarrassing and uncomfortable some of the scenes might be, they never veer into non-genuine territory.
I'm always a sucker for a story that is about following your dreams. La La Land is a whimsical movie that takes an overused plot and turns it into a vibrant and colorful musical. It is a wonderful reminiscence of the once popular classic musical genre. But it's the always magnetic chemistry between Ryan Gosling and Emma Stone, who nail their on-screen romance for a third time that makes the film what it is–A True Hollywood Delight.
Initially when I heard this film was being made, I thought, "Why?! What's the point?" Given, that this is the story of Chelsey Sullenberg, the pilot who landed his damaged plane in the Hudson River and saved everyone on board. It hardly seemed like an exciting story to tell. Well, thank goodness, this film was made! Clint Eastwood (My favorite director of the year) brilliantly recounts the events by scattering the plane's crash throughout the film using flashbacks. Through this edit, the film never feels slow or boring. But more importantly, it's uplifting to see a movie based on a true "almost tragedy" where no one dies, there's no shooting, and no explosions. Sully is a reminder that there are heroes, and believe it or not, there is positive news in the media.
Annette Bening truly shines as a leading lady in this film. Along with this amazing ensemble cast, 20th Century Women is another great addition to the coming-of-age genre. A tender, introspective film about a young boy and the three women who influenced his life.  
Let's put aside the fact that this was Ryan Reynolds passion project, and it's the first R-rated Marvel movie. What's so great about Deadpool is how self-aware it is (i.e. the opening credits). He is the only Marvel character who breaks the fourth wall and talks to the audience, allowing him to make fun of the film. And oh, how funny this film is.  Deadpool was a risk that fully paid off and thoroughly entertained.
Designer Tom Ford's shockingly deep and clever screenplay still amazes me. Featuring some of the best performances by Jake Gyllehaal, Amy Adams, Michael Shannon, and Aaron Taylor-Johnson. Ford uses his gift of striking visuals to create a sexy, mesmerizing story about past loves, regrets, aspirations, and revenge.
For those who haven't seen Zootopia yet, the film is much more than the trailer perceives. Though the big picture theme of going after impossible goals will have kids entertained, adults young and old can appreciate the message of fighting stereotypes and other social issues of today that are so well represented in this charming animated feature. 
3. Captain America: Civil War
There is so much to admire about Captain America: Civil War. There are many layers to this thought-provoking story, which still has me debating whose right and whose wrong. Should superheroes be above the law?  Is defeating a villain worth an innocent life? The execution of this premise brilliantly told through a smart script, and a well-focused direction is why Captain America: Civil War stands out above other superhero movies.
Though we've seen a few films take on the subject matter of someone becoming the guardian of a kid after their parents' passing, we have yet to see it done so masterfully. Manchester by the Sea is a gut-wrenching story about painful losses, that's cut with elements of humor and laughter. The film is enhanced by its rich and well developed characters. Casey Affleck gives his best performance yet, which is sure to earn him an Oscar nod and a very likely deserving win. 
1. Don't Think Twice
It was tough to pick this top spot, but ultimately, I went with the film that hit close to home and had me crying during and after the movie was over.
Don't Think Twice 
is a dark comedy about a group of best friends who preform improv together at a popular New York City comedy club.
They are all chasing after the same goal, to become part of New York's hit sketch comedy series, Weekend Live. But when only one of them lands a spot on the TV show, it not only changes the group dynamic but also puts everyone else's life in perspective, questioning whether or not everyone in the group is capable of achieving their dream job. It's a relatable story for anyone who struggles to have a career in what they are passionate about.
The Rest of the Films that Deserve Recognition:11. Captain Fantastic
12. Rogue One: A Star Wars Story
13. The Handmaiden
14. The Jungle Book
15. Moana
16. A Monster Calls
17. The Invitation
18. The Magnificent Seven
19. My Blind Brother
20. Arrival
Top 5 Worst Films of 2016
5. American Honey – Too long and too much of nothing.
4. Billy Lynn's Long Halftime Walk – Vin Diesel's performance alone made this film beyond cringe-worthy.
3. Independence Day: Resurgence – Overflows with cheesy lines and just so, so stupid.
2. Jack Reacher: Never Go Back – A HORRID father/daughter subplot that overshadows the entire film.
1. Zoolander 2 – How dare this movie be made!