10. Joe
15-year-old Gary (Tye Sheridan) is desperate to find work so that he may be able to take care of his sister and mother who live in squalor.  His abusive, alcoholic father lends no helping hand to his family, as he is lazy and only thinks to provide for himself.  Luck briefly turns around when Gary begins working for Joe (Nicholas Cage), an ex-con who has gone straight but is still haunted by his past.  Nicholas Cage gives one of the best performances of his career and Tye Sheridan continues to impress as a young actor on the rise.  Though the film barely saw the light of day in theaters, it remains to be one of the most powerful dramas of 2014.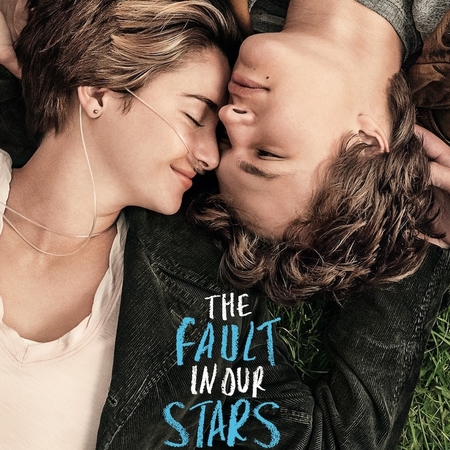 9. The Fault in Our Stars
The Fault in Our Stars goes beyond a Nicholas Sparks romance.  There is more here than just an illness or cheesy one-liners.  This film portrays a genuine love story that isn't forced or dramatized.  From the moment Hazel (Shailene Woodley) and Gus (Ansel Elgort) meet, you can tell you're about to witness something special.  I'd be lying if I said I rarely cry during movies, I do cry, but this is the first time I have balled my eyes out over watching a beautiful relationship and wanting that kind of "true love."
8. Neighbors
As far as the best "laugh out loud" comedy goes, Neighbors wins by a landslide.  It is the only film this year that had my ribs hurting from laughing so hard.  What is most satisfying about this film is how it is more than just a hilarious slapstick comedy.  There is heart and a sense of authenticity.  A lot of us are afraid to grow up.  It can feel as though we will be missing out on "the party," but Neighbors shows us that in reality, your life and how you choose to live it can be the most legendary party that never ends.
7. The Grand Budapest Hotel
Wes Anderson has been on a roll for several years now, with stop motion animation, a childhood romance, and now, his biggest and boldest film yet.  The Grand Budapest Hotel  follows the adventures of Gustave H (Ralph Fiennes), a legendary concierge at a famous hotel from the fictional Republic of Zubrowka between the first and second World Wars.  And Zero Moustafa (Tony Revolori), the lobby boy who becomes his most trusted friend.
6. Gone Girl
Every year I look forward to the "dark mystery drama" that will keep me on the edge of my seat, dying to know what will happen next, and eventually leave me with a satisfying conclusion.  Last year that film was Prisoners, this year it's Gone Girl.  Gillian Flynn's bestselling novel is masterfully directed with a mix of satire and menace by David Fincher.  Ben Affleck gives his best performance yet, and Rosamund Pike shines as the conniving yet brilliant "Amazing Amy."
5.Guardians of the Galaxy
There is not much explanation needed for why Guardians of the Galaxy is placed so high on my list, simply watch the film and be blown away by a witty cast, exciting adventure, and Groot!
4. Boyhood
Richard Linklater has made cinematic history with a true coming-of-age story.  Linklater filmed over 12 consecutive years to chart the growth of a boy into a young man.  As you watch Mason (Coltrane) and his family through the years, you can't help but reflect back on your own life journey.
3.The Guest
Last year, Wingard brought us the ingenious You're Next, which like The Guest, is a horror that calmly lets things escalate to a state of restless violence.  Wingard and Barrett have admirably paid homage to the old-school slashers with their John Carpenter-influenced 1980's styling.  From their music, to their by the numbers outline that follows the rules of the usual scary movies.   The Guest may welcome audiences to a familiar plot, but there is enough gusto in this story that makes for a surprisingly, hell of a good time!
2. Whiplash
It's a simple story.  An ambitious student continuously tries to excel in his music school and impress the prominent drum teacher.  Miles Teller and J.K. Simons take their characters beyond the cliché student teacher stereotypes.  J.K. Simmons as Fletcher is one of the most terrifying villains I've seen in years.  With heart pounding performances, a perfectly paced story, and a jaw-dropping, exhilarating conclusion, Whiplash is a phenomenal film that came very close to nabbing the top spot.
1. Obvious Child
I could go on for days raving about this film, sharp script, break out performance by Jenny Slate, and the most endearing on-screen romance.  Gentlemen, take note: Always warm the butter for your date's bread.  Though Obvious Child deals with a sensitive subject that most people have strong opinions on, it is important to understand that there is so much more to this story.  It's about finally facing the reality of being independent for the first time.  Donna (Slate) must make tough decisions that she would otherwise avoid.  Like the film quote says "creative energy can sometimes come at the lowest point your life."  Regardless of the circumstances, audiences can relate to this film when reflecting on a dark time that forced you to start over.
Honorable Mentions: Babadook, X-Men: Days of Future Past, The Skeleton Twins, The Lego Movie, Birdman, Chef, Rosewater, The One I Love
Bottom 5
5. Think Like a Man Too
4. When the Game Stands Tall
3. Heaven is for Real
2. Are you Here
1. The Other Woman