M. Knight Shyamalan was once known for his great films such as The Sixth Sense, Unbreakable, and Signs.  Unfortunately, his more recent projects have subjected us to some underwhelming, pieces of crap like The Happening and After Earth.  Well folks, I'm pleased to say that Shyamalan's newest film, The Visit, succeeds as a highly entertaining horror-comedy!
Kathryn Hahn plays a single mother of two who has not spoken to her parents since she left home at the age of 19, and ran off with an older man.  Now, her parents have reached out to her through the internet and ask that her children come to visit their Nana (Deanna Dunagan) and Pop Pop (Peter McRobbie), whom they've never met.
Per the kids' wishes, the mom sends them to their grandparents' isolated, Pennsylvania farmhouse in the woods for a week while she goes on a cruise with her new boyfriend.  The eldest child, Becca (Olivia DeJonge), is an aspiring filmmaker.  She takes this opportunity to document her entire trip, and hopefully uncover exactly what happened the day her mother walked out on her parents and maybe even mend their relationship.  Alongside her, as a second camera operator is her younger, germ phobic, rapping brother, Tyler (Olivia DeJonge).
The trip starts all well and good, Nana makes plenty of tasty treats and Pop Pop enjoys listening to Tyler's ridiculously, hilarious raps.  Seems as though it will be a great week for the kids; that is until they discover why bed time is at 9:30pm.  Nana goes from a harmless, nocturnal sleepwalker to a straight up psychotic, creepy, crawler within each passing night!  And what exactly is Pop Pop doing when he disappears inside his mysterious shed?
As things are turning eerie fast, the kids are desperate to have their mother come get them before anymore craziness unfolds.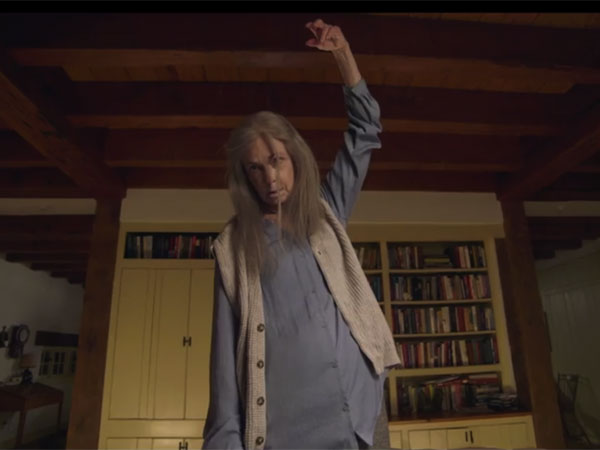 Shyamalan has not only redeemed himself as a filmmaker, but he has also brought originality to the found-footage genre.  His combination of humor and terror will have audiences uncomfortably laughing while still on the edge of their seats as they nervously anticipate what's to come.
The acting is good overall, especially when it comes to the two kids, who could have ruined the whole film if they were wrongly cast.  Oxenbould was given some cheesy lines and potentially bad jokes, but his delivery and timing is so on point that you can't help but enjoy every second he's on screen.  But the real stand out here is Nana.  Dunagan gives an incredible performance as the disturbing grandmother who seesaws from sweet and nurturing to plain insanity.
The Visit provides comedy, horror, family, and best of all, a startling amount of effed up sh**.  Literally!
Rating: 4/5
The Visit opens in theaters on September 11.