HOLLYWOOD, CA (December 16, 2013) – Paramount Pictures, a division of Viacom, Inc, announced today that principal photography has commenced on "MEN, WOMEN & CHILDREN," from Academy Award®-nominated filmmaker Jason Reitman ("LABOR DAY," "YOUNG ADULT," "UP IN THE AIR").  The film stars Rosemarie Dewitt ("KILL THE MESSENGER," "RACHEL GETTING MARRIED"), Jennifer Garner ("DALLAS BUYERS CLUB," "DRAFT DAY"), Judy Greer ("DAWN OF THE PLANET OF THE APES," "TOMORROWLAND"), Dean Norris ("Breaking Bad," "THE COUNSELOR"), Adam Sandler ("GROWN UPS 1 and 2," "THE LONGEST YARD") and Emma Thompson ("SAVING MR. BANKS," "LOVE ACTUALLY"). The film is shooting in and around Austin, Texas.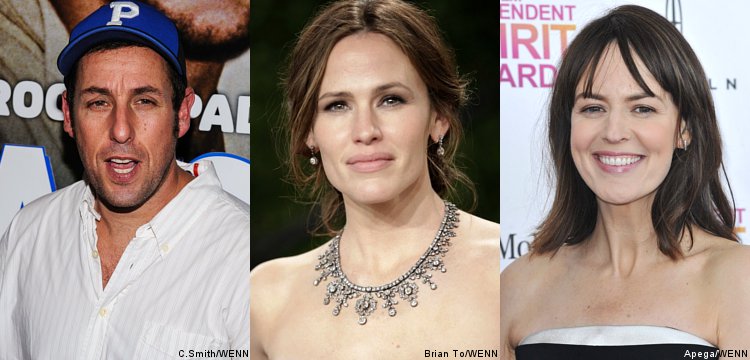 "MEN, WOMEN & CHILDREN" is based on Chad Kultgen's novel of the same name with Reitman directing from a screenplay he co-wrote with Erin Cressida Wilson ("SECRETARY," "CHLOE").  He is producing the feature with his partner Helen Estabrook through their Right of Way Films banner.  Michael Beugg ("UP IN THE AIR," "LITTLE MISS SUNSHINE") and Mason Novick ("BAD WORDS," "JUNO") will serve as executive producers.
The young ensemble cast includes Timothée Chalamet ("INTERSTELLAR"), Olivia Crocicchia ("TERRI"), Kaitlyn Dever ("SHORT TERM 12"), Ansel Elgort ("THE FAULT IN OUR STARS," "DIVERGENT"), Katherine Hughes ("ROADIES"), Elena Kampouris ("LABOR DAY") and Travis Tope ("THE TOWN THAT DREADED SUNDOWN").
"MEN, WOMEN & CHILDREN" follows the story of a group of high school teenagers and their parents as they attempt to navigate the many ways the internet has changed their relationships, their communication, their self-image, and their love lives. The film attempts to stare down social issues such as video game culture, anorexia, infidelity, fame hunting, and the proliferation of illicit material on the internet. As each character and each relationship is tested, we are shown the variety of roads people choose – some tragic, some hopeful – as it becomes clear that no one is immune to this enormous social change that has come through our phones, our tablets, and our computers.
Narrated by Emma Thompson, the film's ensemble cast features Sandler and DeWitt as Don and Rachel Truby, and Tope as their son Chris.  Garner stars as Patricia Beltmeyer with Dever as her daughter Brandy.  Greer is Joan Clint and Crocicchia is daughter Hannah.  Norris plays Kent Mooney with Elgort playing his son Tim.  Hughes and Kampouris play cheerleaders Brooke Benton and Allison Doss, respectively, and Chalamet is football player Danny Vance.
Rounding out the cast are David Denman ("The Office"), Jason Douglas ("Revolution"), Dennis Haysbert ("SIN CITY: A DAME TO KILL FOR"), Shane Lynch ("Ray Donovan"), Will Peltz ("PARANOIA") and J.K. Simmons ("Growing Up Fisher").