The Lone Ranger
The man behind the mask wouldn't be The Lone Ranger he is with out his trusty horse.  Silver, the actual horse from the new film visited the Mesquite Rodeo for a meet and greet with fans.  As Silver was allowing interviews, Bobby Lovgren, his trainer, was there to speak on his behalf.
Bobby is no stranger when it comes to training horses for film.  For over 20 years he has trained for all the great horse films, including Seabiscuit, War Horse, Racing Stripes, Zorro, and much more.  It's his love for animals that makes his job feel less like work and more like a passion.
The Lone Ranger tells the story of a Native American warrior, Tonto, as he recounts the untold tales that transformed John Reid, a man of the law, into a legend of justice.
Out now, the film is sure to be fun for the whole family to watch this Fourth of July weekend.
Click the link below to see the interview with Silver and Bobby, followed by an interview with Academy Award winners, Nat Faxon and Jim Rash on their newest film, The Way, Way Back.
The Lone Ranger and The Way Way Back Interviews
The Way, Way Back
On a scale of 1 to 10, what would you rank yourself?  It's a question most of us probably ask about other people; but when referring to ourselves, were usually at a loss for numbers.  As you can see from the interview with the Writer/Directors, Nat Faxon and Jim Rash, "we're all on our own sort of journey and there are no numbers."
Unfortunately for Duncan (Liam James), at the start of the film he has been labeled a "3" by his mom's arrogant boyfriend Trent (Steve Carell).  Duncan is forced to spend his summer vacation with his mother (Toni Collette), Trent, and his daughter.  Having a rough time fitting in and constantly being belittled by Trent, he finds an unexpected friend in Owen (Sam Rockwell), manager of the Water Wizz water park.  As the film continues Owen offers Duncan a job at Water Wizz.  It doesn't take long for this awkward, insecure kid to find the confidence within, and realize that he is more than any number on a scale.
Liam James is a new comer among this slew of an all-star cast, including Steve Carell, Toni Collete, Sam Rockwell, Allison Janney, Maya Rudolph and many more! But Liam didn't need any help from his supporting cast.  He shined in his role as Duncan.  During the entire film the audience relates to Duncan.  You feel every moment of pain, embarrassment, and best of all, happiness that this kid is feeling.  It's incredibly, enjoyable to watch his character develop throughout the movie.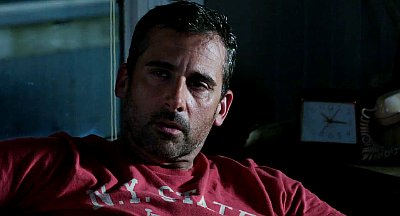 What's not as enjoyable, is watching Steve Carell as a jerk!  Don't get me wrong Carell nails his performance as the overbearing, deep rooted, insecure boyfriend.  It's just odd to be watching one of the most likeable actors in Hollywood playing a role that you can't root for.  Although Carell's character isn't likable, I commend him for proving that there are more layers to this actor than just the nice guy who seems to be clueless with reality (i.e., The Office, 40 Year Old Virgin, Anchorman, etc).
Hands down this film has been my favorite of the year so far.  Not just because the dark comedy genre is usually my preference, but the message is one we should all listen to.  I think we have all met that person that has made us doubt ourselves, and leading us to believe we aren't as special as we think we are.  Most of the characters in this film feel they need someone's seal of approval to be happy with the person they are; thinking that there is some sort of norm that we all must follow to fit in.  The Way, Way Back teaches us that, what makes us truly happy in life is the path we create for ourselves.
The Way, Way Back opens in select theaters July 5, 2013.