The sudden death of Cory Monteith has sent shock waves through Hollywood and caused sadness for fans everywhere. On July 13, 2013, the actor's body was found in his hotel room at the Fairmont Pacific Rim Hotel in Vancouver.  He was found by staff members of the hotel after missing his check out time that day.  It was released after his autopsy that the cause of death was from a "mixed drug toxicity," consisting mainly of heroin and alcohol.  There is no reason to believe his death was anything but an accident.  As this is a tragic time for everyone who cared for Monteith, we look back at the star's life.
When it all Started
Early on in Cory's life he was "just a small town boy, living in a lonely world."  He struggled to find his place in the world after his parents' divorce when he was 7.  He and his older brother were raised by his mother, and he saw little of his father due to his military services.  He had social difficulties at school and, at age 13 he turned to drugs and alcohol.
Cory attended 16 different schools, including alternative programs for troubled teens.  And by age 16 he dropped out of school all together.  Things only got worse from there, he resorted to petty crimes and stealing from his family to pay for his addiction.  It was at 19 when his mother and friends staged an intervention, and Cory finally entered a rehabilitation center.  He had stated, "I'm lucky on so many counts. I'm lucky to be alive."
GLEEful
Cory did finally receive his High School diploma in 2011 from an alternative school he attended in Victoria.
Before breaking into acting, Monteith had numerous jobs.  Including one he most often mentioned, a Walmart people greeter.
Finally, he started his acting career appearing in many minor roles in films like Final Destination 3, Deck the Halls and in shows like Smallville and Kyle XY ,plus many others.  But wasn't until the FOX hit Glee, that Cory Monteith would become a name that everyone would be talking about.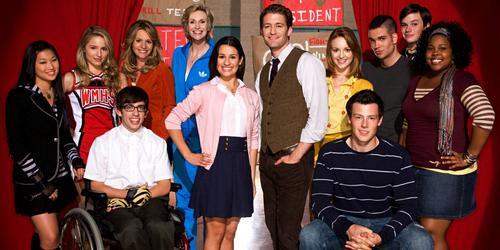 Cory's agent submitted a video of him drumming with pencils on Tupperware.  The performance left a lasting impression on Ryan Murphy, the series creator.  The only catch to getting the part was that he had to sing.  Not knowing if he was even a good singer, Monteith submitted another video of him singing the classic 80's song by REO Speedwagon, "Can't Fight This Feeling."  Which would later be the first song we ever hear the character, Finn Hudson, sing.  Though Cory wasn't as strong of a singer as some of the other cast members,  the casting directors saw the Finn Hudson they were looking for in a naive, genuinely sweet guy.  From that point, the role of Finn Hudson was one fans couldn't help but admire, laugh at, and constantly root for.
Rachel and Finn "Off-Screen"
From the moment Cory and Lea began working together in 2009, the two became immediate friends, as did the rest of the cast.  There was a strong connection between the at time friends.  "Cory is like my brother," stated Lea for a 2011 
Teen Vouge
 Magazine interview.  It wasn't long after Lea broke up with boyfriend, Theo Stockman, that she and Cory would take that on-screen romance off-screen.  As if Rachel and Finn's chemistry on the show wasn't evident enough, the two went public with their relationship in February 2012.  And since that moment, the love birds were never shy about showing how in love and affectionate they were with each other.  The paparazzi always managed to get them holding hands, smiling and laughing no matter where they were.  "For the first time in my life, I feel really, really settled and happy…I feel like the luckiest girl in the world," quoted Lea for 
Marie Claire
. 
Sources say it was because of the future he wanted to pursue with Lea, that Cory voluntarily joined the rehab facility in March 2013.  "I love and support Cory and will stand by him through this. I am grateful and proud he made this decision," stated Lea.  Everyone on Glee was supportive of Cory's decision, allowing Finn Hudson to be we absent for the final 2 episodes of the fourth season.  The series explained his absence, as Finn was in school pursuing a teaching degree while still giving fans the hope for a Rachel and Finn reunion for next season.  Unfortunately, we know that reunion wont be happening.  And while it is still uncertain how the show will proceed with Finn Hudson's story line, it is certain that the cast and everyone at Glee are still mourning the loss of their beloved Cory Monteith.
Speaking as a Fan
Writing this post was more than just a way to respect the young actor/singer.   It was a way for me to express how much I and millions of fans cared for Cory Monteith.  When I started watching the first episode of Glee, I didn't think much of the show.  I felt like Will Shuester about to give up on a sure to be disaster.   But as soon as Cory began to sing one of the best performances (if not the best) on the show, Journey's "Don't Stop Believin," alongside the original cast.  This inspiring feeling came over me.  I was immediately connected, wanting to see all of them win national's and prove that the so called "losers" were winners!  It was the character of Finn Hudson, an awkward teen, who struggles between wanting to stay the popular jock while secretly loving to sing/perform, that I rooted for every week.  You couldn't help but fall in love with him, and even more so after learning about the real life struggles the actor had gone through before getting to this point.  It was him and the entire cast of the show, with their inspiring back stories, that pushed me even harder to go after my dreams.  Every week Glee is the show that makes me just feel good and motivated… I know it will still be that show. There is just no forgetting Finn Hudson.  My thoughts and prayers go out to Cory's family, friends and Lea Michele.  Cory Monteith, where ever you are, we wont "Stop Believin" in you.
(Fans pay their respects outside the Fairmont Pacific Rim Hotel in Vancouver)
Cory Monteith's Video Diary during the First Season of Glee
Below are a few remarks Glee cast members have made so far about the talented actor…
"The entire Glee family and I are deeply saddened by this tragedy, Cory was and always will be a part of my own family and a good friend. He was a special part of this world and will forever be missed.  My heart goes out to Cory's family and Lea, and while we are grateful for everyone's well wishes, privacy during this time of grief is greatly appreciated."- Naya Rivera
"Going through a million memories and emotions today. ill love you always Brother Cory."- Mark Sailling
"At this time, please send nothing but love and light. This tragic news still doesn't seem real to me. I love you Cory."-Harry Shum Jr
"I HAVE NO WORDS! MY HEART IS BROKEN CORY WAS NOT ONLY A HELL OF A FRIEND HE WAS ONE AMAZING MEN THAT I WILL HOLD CLOSE TO MY HEART FOREVER"-Dot-Marie Jones

"Lea is deeply grateful for all the love and support she's received from family, friends, and fans. Since Cory's passing, Lea has been grieving alongside his family and making appropriate arrangements with them, they are supporting each other as they endure this profound loss together. We continue to ask the media to respect the privacy of Lea and Cory's family."-stated Lea Michele's rep