Though we may not be wishing for a "white" Christmas this year after the Icepocalypse weekend,  Dallas Summer Musicals has brought snow to Dallas in a safe and fun way for the entire family to enjoy.
Irving Berlin's White Christmas is a holiday classic, and if you have seen the film, the stage adaptation follows the same storyline.  The story of two showbiz buddies, Bob Wallace and Phil Davis, as they team up in business and romance with a sister act to save the failing Vermont inn of their former commanding general.
The musical showcases a slew of talented performers.  Featuring James Clow as "Bob Wallace," David Elder as "Phil Davis," Trista Moldovan as "Betty Haynes" and Meredith Patterson as "Judy Haynes."  All four are no strangers to the theater, having done numerous Broadway shows.  Each principal character brought a stand out factor to their performances.  Davis and Patterson bring constant laughs with their hilarious tumultuous relationship.  They also kill it in one of the best tap dancing performances I have ever seen at the top of the second act.  But, I will come back to that in a moment.  Moldovan gives jaw dropping power ballad solos that will leave you in awe.  Clow not only has an amazing singing voice, but he also has an incredible speaking voice that makes you feel as if you have traveled back to 1954.  Also appearing in the play is Ruth Williamson as "Martha Watson," Joseph Costa as "General Waverly," and the unbelievably too young to be that talented, 9 year-old Shannon Harrington as "Susan Waverly."  This is Harrington's second year in a row playing Susan for the national Broadway tour.  I can only imagine where this kid will be at age 16, but something tells me a Tony Award could be involved.
The production of the play was phenomenal.  Director, Norb Joerder deserves enormous praise, as does his entire cast and crew, for the dazzling set design and the quick background changes as each scene passed.  I'm still amazed by how many different set designs Anna Louizos produced, and by how well crafted they were.  Speaking of quick changes, I wish I had counted how many costume changes there were, but I would have lost track.   Costume designer, Carrie Robbins, might just be the scene stealer of the whole show with her numerous eye-widening outfits.   Designed with a variety of color and different styles from short shorts to winter evening wear.  It was like a 1950's mini fashion show; you can't wait to see what they will be wearing next!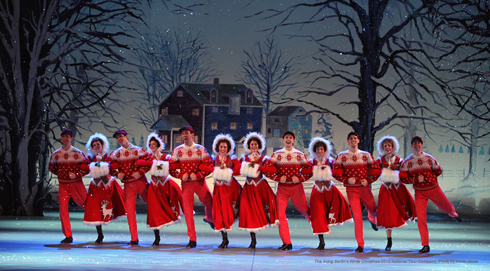 The musical moves quickly, and at the beginning of Act II the time will really fly.  It starts with my favorite scene out of the show, an impressive tap dance number led by Phil and Judy along with the Chorus. Truly breath-taking choreography.
White Christmas is the perfect show to take your family to during this Christmas break.  There's laughter, there's love, there's music, and best of all there's snow!
WHITE CHRISTMAS THE MUSICAL is performing at Dallas Summer Musicals at the Music Hall at Fair Park thru December 29th.
Originally posted on RedCarpetCrash.com